WELCOME TO KG4BET'S PLACE









VIEWS FROM THE FIELD



This page will be the place for all the RC pictures from the flying field

and some of the old one too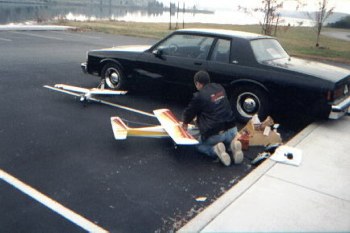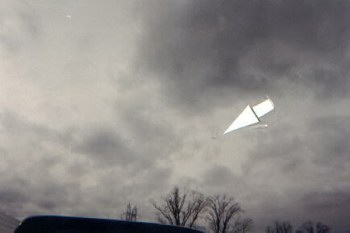 Here's Pete and his Avistar This is Pete's Avistar in flight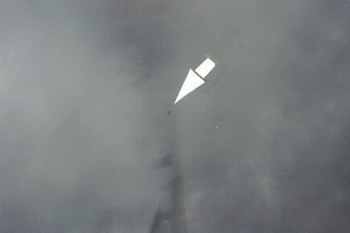 Here's Pete's Duraplane The Duraplane in flight
I will get some pictures at lower altitude soon
and some of the guys faces also.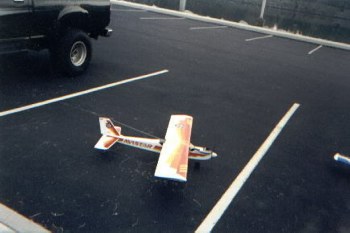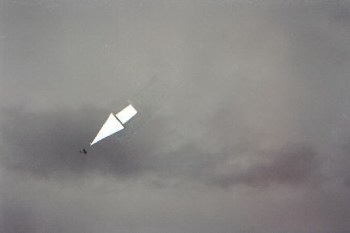 Here's Shane's Avistar And Shane's Avistar in flight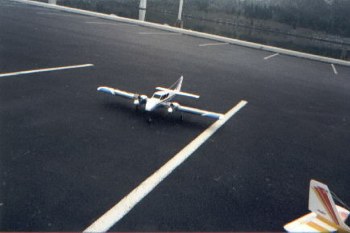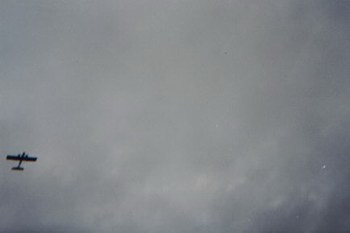 This is Shane's Twinstar The Twinstar in flight
This is the newest member of our group Kevin is learning to fly with very
little help none of us has had any experience with flying helicopters
Gary a very nice guy came out last Saturday and help Kevin out.
If you don't know the sticks with the blue balls, they are to keep the rotor blades from hitting the ground.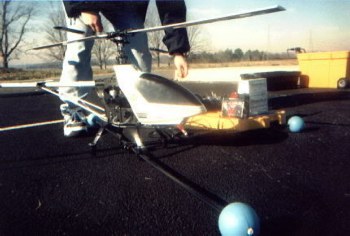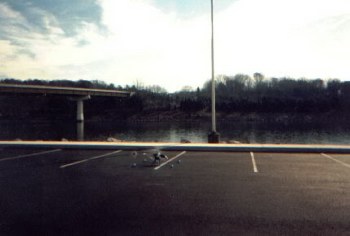 Kevin's helicopter Ready for takeoff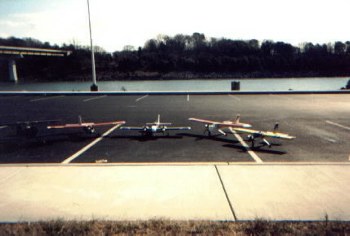 In flight Flight line 2001/02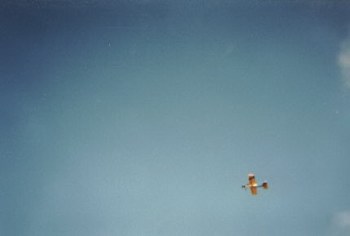 This is Pete's new Dura Bat in yellow Dura Bat in flight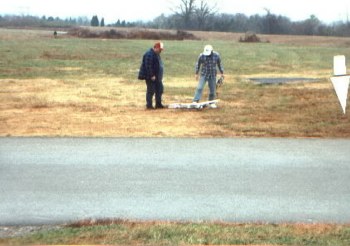 This is the prop and Spinner of Pete's Duraplane the arrow show's how far the plane bounced
from point of impact.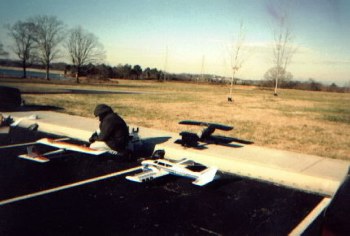 Lenoir City Air Corp. with Shane in the background And Shane with his Avistar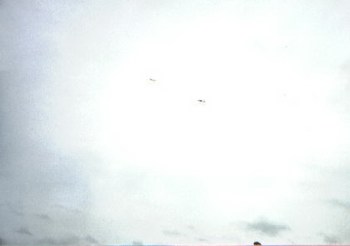 here we have Avistars over Lenoir if you look closely you can see Pete & Shane chasing each other in a little mock dogfight.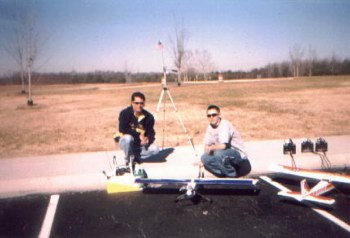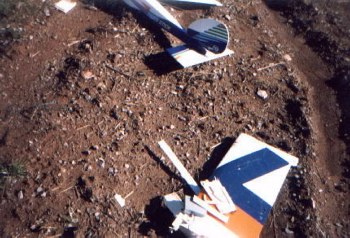 Here are the newest members of our group Kip and his son Dave
Their plane was a thunder Tiger On their second time out at the field the Tiger hit the ground very hard as you can see from the photo there's not much left of the plane But like all of us aero-nuts they will be back in the air soon.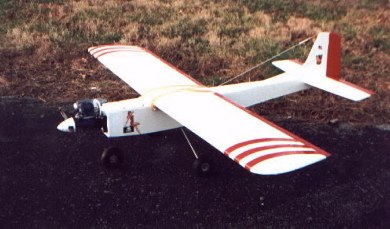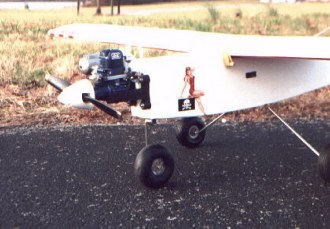 This is a group project it's a Fledgling the plane, radio and wheels are mine the engine, nose gear and nose art is from Shane the main gear is from Pete. When I finish with the learning process it will be used as a club demo plane and general workhorse.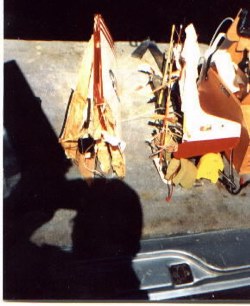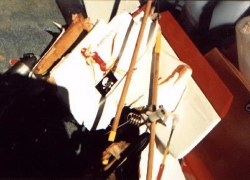 On March 10 2002 while on a low level mission over Lenoir Passionate Poison was lost due to enemy fire.
After being decommissioned some 25 years ago and going through an extensive restoration
The fledgling was re-commisioned in early 2002 and flew over 25 successful missions throughout her long and lustrous career she was a shinning star and will be
greatly missed.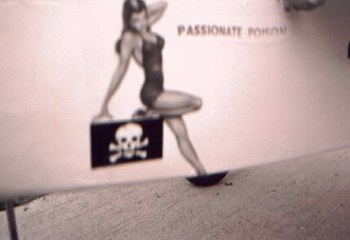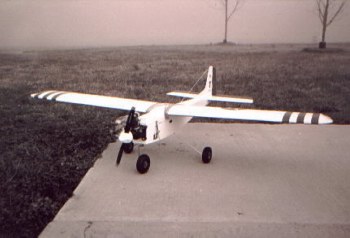 Here are some black and white photos of the Fledging (passionate poison)
you can see the fog that we had to put up with until about 11:30 AM
we tried the b&w film to see if the nose art would look more like
the pictures from W.W.II Below are some more of
Shane's Avistar as a tail dragger
and the Twinstar and one more of the fledging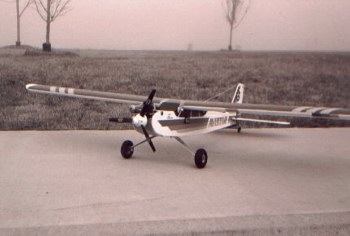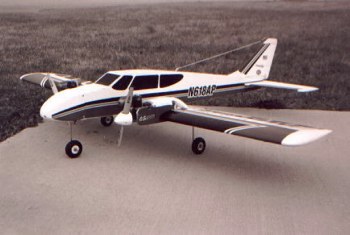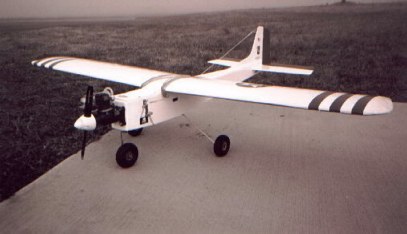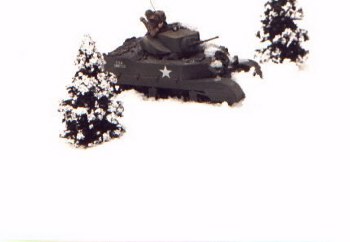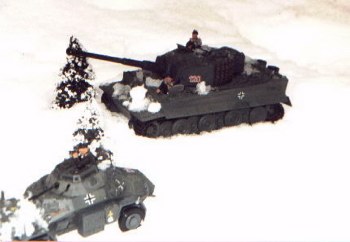 Did someone call for close in air support ?
Here we have some of Shane's tank models while they are not RC
they do make for an interesting scene.
And yes that's real snow.
Shane gets to fly one day a week and he spends most of the day
helping me and everyone else with their needs.
He is not only a good friend but a great asset to our hobby.

The below pictures are of an Aspire EP 2 Meter (79" wingspan) electric glider it's my newest project.
I will get better pictures soon but with my luck I thought I better get some up before I rekit the plane.
I am going to try to get some of it in the air.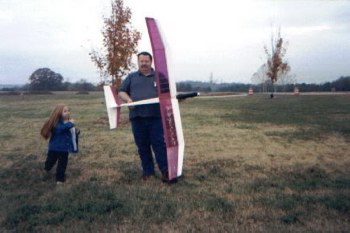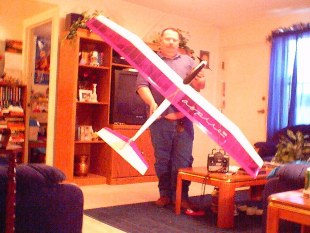 Here I am with Angel and my Aspire EP And in the house

Well how about in the water
Last weekend Nov.17 2001 I tried to fly my new Aspire and found out that
I am not ready to solo and lost it over the river.
Below are some of the pictures of the search and rescue.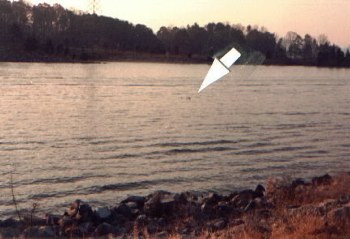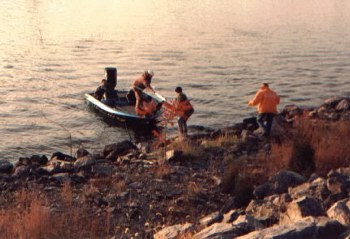 I was very happy that there was some real nice fishermen near by to help out.
The first picture is of the plane in the river you have to look real hard to see it
and the second is of the fishermen handing it to Pete.
Bet you can't see Carol (UT jacket)
Thanks Shane for the pictures.
One week later the Aspire with the help of Shane and Pete had five great flights
and came home in one piece.
Thanks again guys.
Shane shot some great pics of the Aspire EP in flight.
And here they are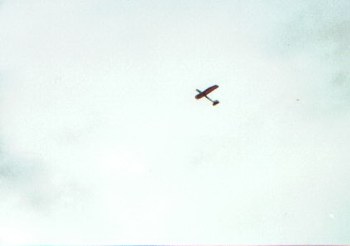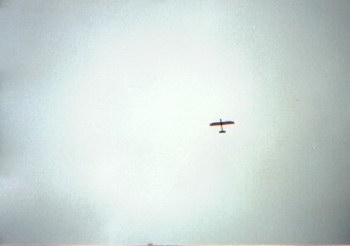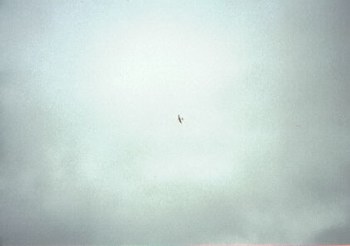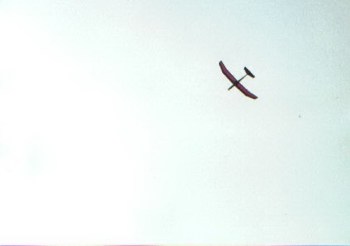 We had some problems getting it to climb much pass 100' so here are some photos
of just one of the things we tried to get it up and believe it or not it worked.
When we tried the piggy back idea I had a 8X4.5 prop with direct drive.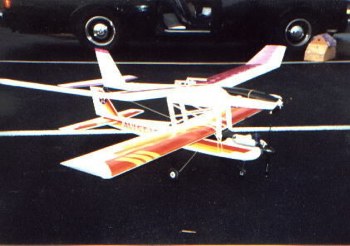 I picked up a Master Air screw 3.0 to 1 gearbox and a 12X8 prop
I came home from the hobby shop and put it all together and on the Aspire.
then I was test running it and was not watching close and cut my upper arm with the prop
about two inches across and one and a half inches deep.
PLEASE REMEMBER TO WATCH WHAT YOU ARE DOING AROUND ANY RC MODEL
that prop is a 10,000+ rpm razor blade BE CAREFUL.
The good news this weekend (Saturday Dec. 8 2001) is that with a 10 to 15 mile an hour wind in the rain the
Aspire climbed out beautifully to about 500 feet and will now fly the way the manual says
it should.
This plane is a lot of fun to fly it is slow and easy so it's a great trainer.
It just needed the gearbox & prop I am very impressed with the flights we got out of it today
it is a hole different plane than last weekend.
If you ever buy the Aspire EP get the Master air screw 3.0 to 1 gearbox and a 12X8 prop
you have the cut the nose a little but like the guy at the hobby shop said
you can't see it at 1000 feet up
you can also get a planetary gearbox that cost more but is a direct bolt in.

VIEWS FROM THE AIR
Here is a shot of the camera that we used
to get some aerial photography
it was mounted to the bottom of Shane's Avistar with rubber bands.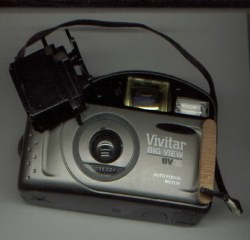 Well we had some of the best flying weather this Saturday
It started out cold but warmed up nicely
I had use CA to hold the servo to the camera it came right off.
Damn that Murphy and his laws
have you ever tried to mix five min. epoxy at 38 degrees
we got it done and it worked very well.
and we got to try out the air cam with great results
below are just some of the very nice pictures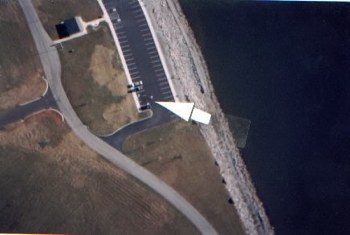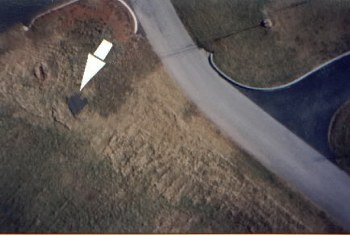 The first one is of our flying field we use the parking lot and the road way
for our runways
the road leads to a boat launch so it's free of cars most of the day.
That's us down there looking like ants
The next one is of a patch of asphalt about six foot across can you say VSTOL
(very short takeoff and landing)
Shane has been trying to do touch and go's from it
it has been suggested we paint an H on it and use it for a heliport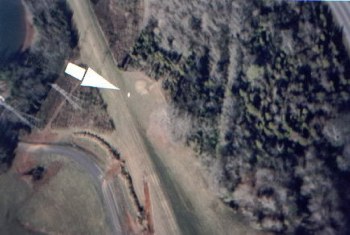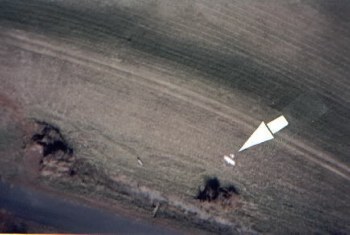 The arrows point to Pete's Dura Plane the first one is with Pete's plane at about 100' off the ground
and Shane's at about 600 to 700' up
the next one has Pete at about the same and Shane at about 300 to 400' high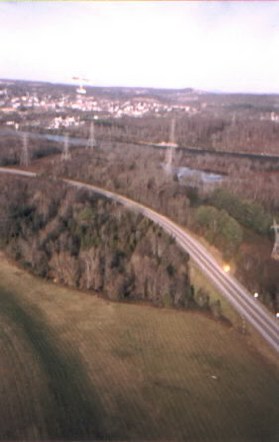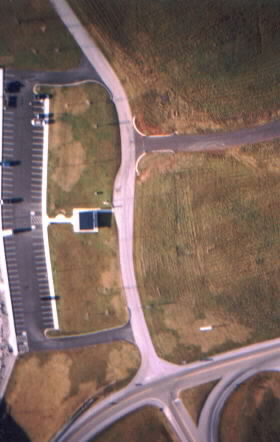 Here we have Pete's Avistar going vertical with Lenoir City in the back ground
the next one is of the way into our flying field
yes that us looking like ants again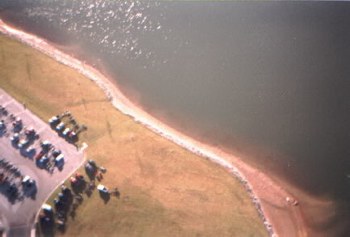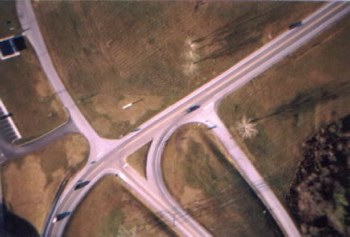 This is the river near the boat launch another one of the way into our flying field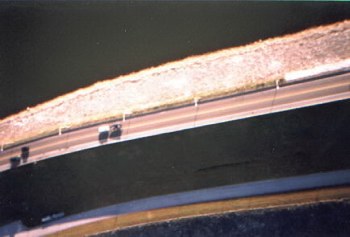 The road to Lenoir This is the road less traveled and one of our runways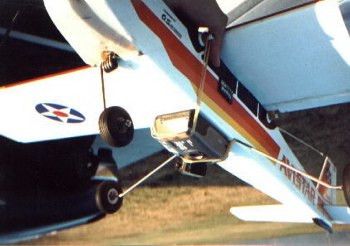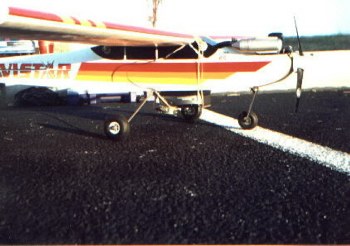 Here are some shots of Shane's Avistar with the air cam mounted.
This weekend ( Saturday Dec. 8 2001) Shane tried some smoke bombs mounted to the fuselage and to the piggy back rack.

HERE IS MY AMCO AEROMASTER BIPLANE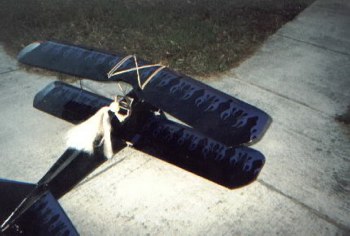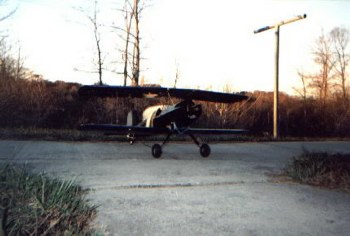 It is covered in black with purple medal flake flames with a 48" wingspan
a Tower Hobbies purple head .75 engine spinning a 13X6 master air screw prop.
which should give Barbie one heck of a ride Hehe.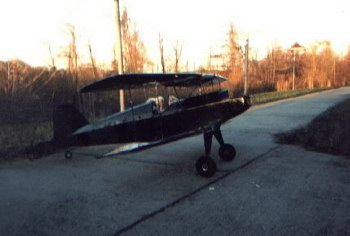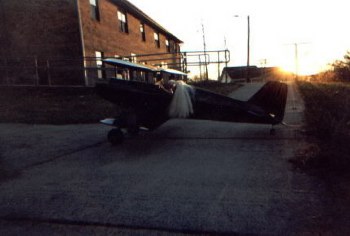 I can't wait to put her through her paces
Sometime this summer
As of Sept. 2003 she has had three flights one with an OS 60 SR spinning a 13X8 & one with an 12X8 prop
The last one with an RJL .61 spinning an 12X8 prop
The first one almost kill the plane. The engine was over propped
The second one the engine did just fine.
A good friend loaned me his RJL .61 but their was something wrong with the aileron servo
linkage we could not keep it trimmed out.
So I now have two aileron servos and I replaced the engine with Tower Hobbles .75
It has 2.2 HP @ 15600 spinning an 13X6 prop.

THIS IS CALLED PLANE Vs TREE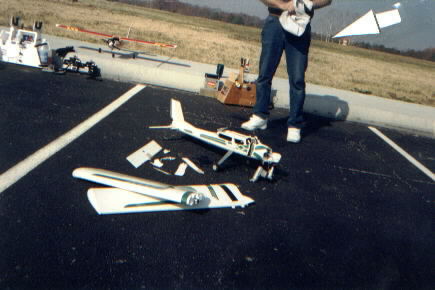 Sorry Greg if you look where the arrow is pointing you can see the tree that did this.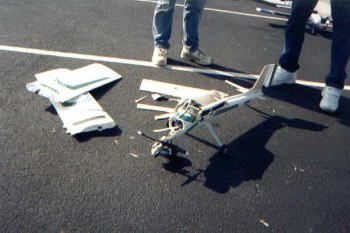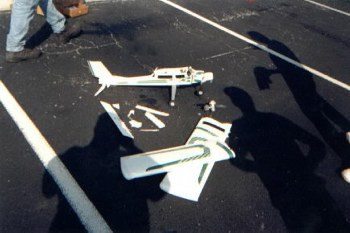 At times like these you just have to remember that a bad day flying RC is better
then any day at work.

NOW FOR SOMETHING REALLY FUN.
I am going to get these planes back in the air someday.
They are from my cousins basement he clean it out a few weeks ago
and gave them to me
So I am going to make them my winter projects for next few years to come.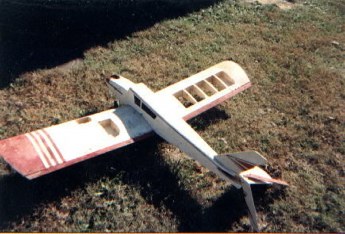 This one will be easy to fix the tail and some recovering is all it needs.
after my cousin crash this one he bought another one and I have it still new in a kit.
Photos of this rebuild are on the VIEWS FROM THE FIELD II page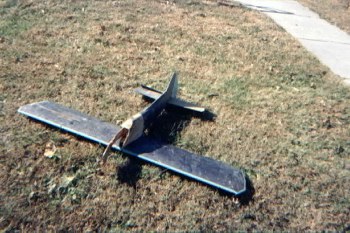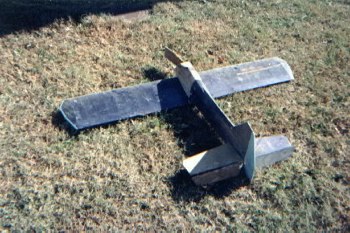 This one is going to be a real project everything from the leading edge foreword is gone
should prove to be fun.
In all there was six planes
an old control line, the two above and three in kit form
an AMCO AEROMASTER BIPLANE that I am working on now
(photos of the Aeromaster are above).
the Piper Cherokee above
(photos on the views from the field II page)
and a Carl Goldberg Eaglet 50.

THESE ARE SOME OF OUR OLD CARS AND PLANES
The following photos were taken in California the summer of 1992
Sadly when we moved to Tennessee they were traded off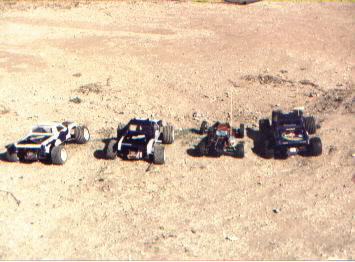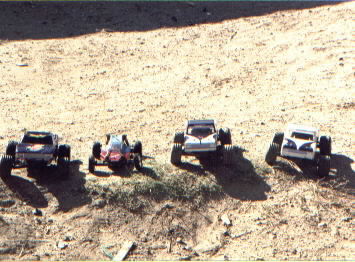 This was our weekend fun we race these almost every week.
the photo on the right has Carol's truck one of my buggies Sheldon's truck and Sammy truck.
All of these are made by Losi
the kids trucks won 7 out of every 10 races they were in.
Carol won the other 3 until I changed this buggy into a truck
they still beat me more then I would have liked.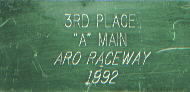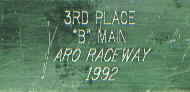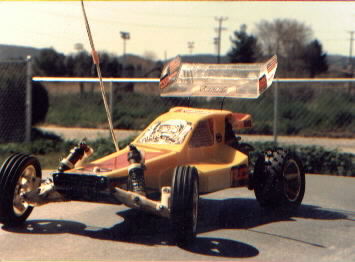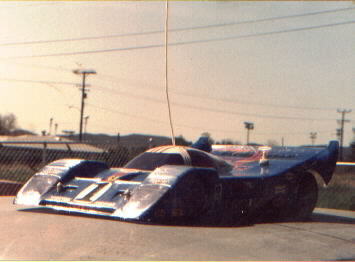 These are my second buggy and my on-road car.
The buggy is a RC-10 Team car and the on-road is a RC-10 L
I never race them in a real race.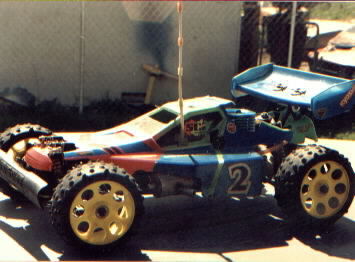 I picked up this car for fun
It is a gas car with speeds up to 70 mph
it has four wheel drive a .21 engine that turns 25.000 rpm
once you have run a gas car it's hard to go back to elec.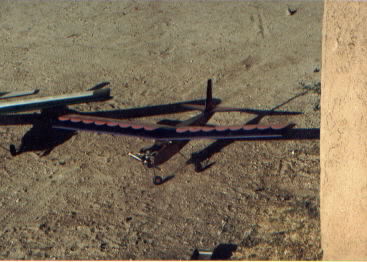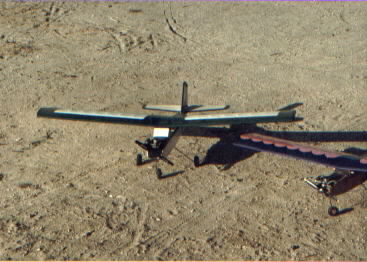 These are Carol's plane on the left and mine on the right
Carol's is a .15 great planes trainer and mine is a .40 trainer
Sometimes you just have to spread your wings

A SPECIAL THANKS TO THE PEOPLE AT THESE SITES
WITH OUT THEIR HARD WORK THIS SITE WOULD BE JUST PLAIN
(C) 2000-02 KG4BET